, we know you can't wait for Kendal Calling, but first you've got to get there. Well, we've got it covered… get your party shoes (or should we say wellies) at the ready and join us on the Virgin Trains Kendalino Festival Express, partying non-stop to Penrith, home of Kendal Calling.


En route to the fields we'll be having our very own mini festival featuring live performances from the world famous solo beatboxer Beardyman as well as all sorts of other tomfoolery to keep you entertained.


Please note the outward and return train times have changed (from the time shown on your ticket). The new train times for the Kendalino are:


Departing:  Thursday 30 July - Manchester Piccadilly - 09:58 (arriving at Penrith - 12:10)
 
Returning:  Monday 3 August - Penrith - 12:58 (arriving at Manchester Piccadilly - 15:38)
There's only one Kendalino Festival Express (and it's a long walk to Penrith if you miss it*) so leave plenty of time to get to Manchester Piccadilly station. You'll need to check in at our Virgin Trains customer service desk (opposite platform one) to get your Kendalino travel band, before you can board. And, just incase you need a little help to get you in the party mood our friends from XFM Radio will be on hand to entertain you at the station.
On arrival at Penrith station a shuttle bus will take you to Lowther Park where you will be greeted by our amazing Virgin Trains hosts and transported by our Festival Trains to the camping area.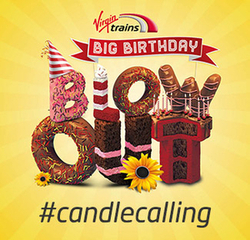 But the party doesn't end there. Join us at the Virgin Trains Big Birthday Blowout, as we help Kendal Calling celebrate their 10th Birthday. Find us Friday to Sunday from 12 – 8pm at the stunning Lowther lake, open for the very first time at Kendal Calling and party like you're turning 10, again (but with booze and better music, obviously).
We can't wait. See you there!

Virgin Trains


*Virgin Trains cannot be held responsible if you miss the Kendalino


To contact us with any concerns about the new times of the Kendalino please call our Customer Relations team 0333 103 1031 (option 6) or via our Livechat www.virgintrains.co.uk/livechat
Registered in England No.3007940. Registered Office:  Virgin Trains, The Battleship Building, 179 Harrow Road, London, W2 6NB