| | |
| --- | --- |
| New deal for the West Coast | 19 June 2014 | |
A message from Phil Whittingham, Lead Executive, Virgin Trains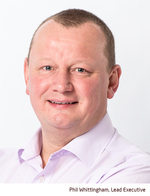 A bright future for West Coast passengers

I am delighted to confirm that Virgin Trains has signed a new franchise agreement with the Department for Transport.

This deal is great news for passengers and taxpayers, with significant benefits for our customers as well as a big increase in the money we pay to government.

The new West Coast contract comes into force on 22 June, runs until at least March 2017, and will provide:
More seats: 21 of our trains will have one of their First Class carriages converted to Standard Class. This will increase Standard Class capacity by 5500 seats per day, a net increase of 2100 seats.
Better connectivity: All 76 of our Pendolino and Super Voyager trains will be equipped with superfast WiFi, which Network Rail intends to support by providing track-side infrastructure. This would be the first major intercity deployment of 4G technology on the UK rail network and provide free WiFi to all customers.
New services: We have agreed with the DfT plans for new direct services between Shrewsbury / Blackpool and London. We have been working with Network Rail to develop these plans and will make a joint submission to the ORR shortly. These services are expected to start by December 2014.
Customer reward programme: Customers who book via the Virgin Trains website or mobile app will be able to earn Nectar points on their purchase by the end of summer.
Financial benefits for taxpayers: The contract means the DfT will receive a guaranteed payment of more than £430m over the length of the contract, as well as up to 100% of the additional returns generated by Virgin Trains.
We're delighted to have reached a deal after some tough negotiations with the DfT. It puts the problems of 2012 firmly behind us, and shows the clear benefits of a well-run franchise system.

The deal also includes other benefits such as:
Customers: More than £20m to be spent on modernising stations with improved waiting rooms, extra ticket machines, more Passenger Information help points, as well as an upgraded website and more staff redeployed to concourses and platforms
Community: An increased emphasis on apprenticeships, traineeships and graduate placements, a pledge to increase SMEs in supply base by 10% and commitment to make station and training centre facilities available for community use
Environment: Commitment to cut CO2 emissions across stations, divert 98% of waste from landfill to recycling and implement efficient LED lighting
This new contract is a good example of the benefits of the franchising system. With commercial train operators taking on the cost of investing in new services the passenger experience can be improved without public money being put at risk. As the improved passenger experience then encourages greater train travel, taxpayers benefit a second time with more money flowing to the Treasury.

The deal builds on the huge progress Virgin Trains has made since taking over the West Coast franchise in 1997. The number of passengers carried each year has more than doubled to 32 million, journey times have been cut and the number of services increased. More than £2bn has been invested in trains and passengers have consistently rated us as the best long distance operator.

My team and I look forward to meeting everyone interested in the new West Coast franchise over coming months so that we can explain in greater detail our future plans for your railway.